Self-Advocates' Support and Action Group

At the start of the pandemic we set up the weekly Covid-19 Support and Action Group for self-advocates around the country. We provided practical support for people to get online and use apps such as Zoom, WhatsApp and Microsoft Teams confidently and safely. We wanted to provide a safe online space for people to share concerns, information and ideas. It was also an opportunity to discuss the coronavirus guidance, which many people found confusing.
Listen to People First Director, Andrew Lee, talk about the group here
Download our information leaflet about the group here
During lockdown people told us that they had less support, and in some cases it stopped altogether. This meant that people were more isolated. The group weekly meetings meant that we had regular contact with people.

In June 2021 we organised and ran our Oi-Out in Front online event during Learning Disability Week. See below for the graphic recording from the event.
In 2022, we decided to meet every 2 weeks, and now we meet every month.
Here are the dates for 2023:
Wednesday 17th May 2023
Wednesday 14th June 2023
Wednesday 12th July 2023
Wednesday 9th August 2023
Wednesday 6th September 2023
Wednesday 18th October 2023
Wednesday 15th November 2023
Wednesday 13th December 2023
Here are some of the statements we have produced about the things that are important to us: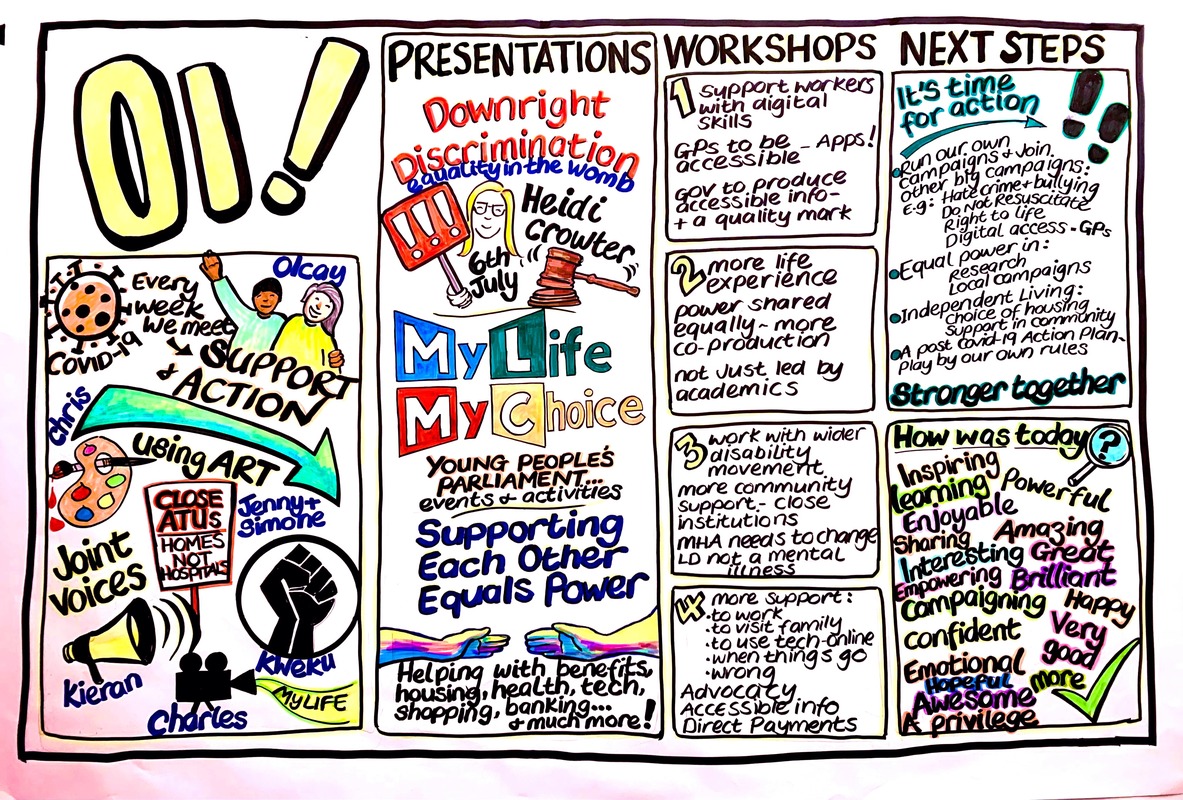 Oi - Out in Front event
In June 2021, we organised and ran an online conference called 'Oi-Out in Front'. This was during Learning Disability Week.
Members of the group gave presentations on the work the group had done. We also invited some special guests to give presentations.
Our guest of honour was Heidi Crowter. We also had presentations from My Life My Choice, The Young People's Parliament and Supporting Each Other Equals Power.
Some of our main messages included:
We need support with digital skills and access
We need accessible information about policy that affects us
We want to have leadership roles in research projects (not just participants)
We want more support in the community
Our graphic from the day is a great reminder of what we heard and what we agreed to take forward. The main issues from the event have directed our work since.